Archive for the 'Social Marketing' Category
Monday, January 20th, 2014
Photo by ShardsOfBlue via Flickr
Social media platforms provide small-business owners with more low-cost marketing and advertising options than ever before. Either if you choose to handle this in house, or to work with an online marketing agency who can help you with fresh, viral content, you can achieve great results and keep your costs in control.
Facebook and Twitter still provide entrepreneurs with access to hundreds of viewers, but another social media platform is quickly taking the lead. With over 70 million users and counting, Pinterest is a force to be reckoned with and a game changer for business owners. In case you've been living under a rock, let us fill you in. Pinterest is a digital archive where users can create virtual pin boards of collections from around the web (a.k.a. pins). Pins are arranged in a visually appealing format where users share images that lead to relevant content when clicked on. Business owners should think of this as a virtual storefront where prospects, near and far, window shop through your goods and services. Get on board and start increasing your profit!
Images Matter
After creating your business Pinterest account, start putting together your boards. The trick to gaining pins is two-fold: create visually stimulating images that lead to relevant information. Take the Martha Stewart Pinterest page for example. Click on any of the showcased pins and you'll find yourself directly guided to more information regarding the image posted. By posting images that are not only eye pleasing but informative, followers feel a stronger connection to the brand thus becoming loyal advocates.
Infographics Work
A great way to spread visually appealing information is through the use of infographics. These modern data charts offer viewers an eye-pleasing collection of well-researched information without pages of boring text. Because they cover the two unspoken rules of Pinterest (pretty and informative) these artfully crafted diagrams provide excellent pinning material. Don't take our word for it, this infographic on why you should use infographics explains it all.
Track Results
With anything in life, the only way to measure success is to track it. Pinterest offers web analytics to help you understand how pinners are engaging with your content. See what pins work, what pins don't and how many visitors went to your website. Pair this up with free business accounting software to track your financials and see if increased traffic to your site is promoting online sales. By tracking where visitors are coming from, you'll be able to monetize the rate at which Pinterest exposure grows your income.
Optimize your Site
Encourage current website visitors to follow you on Pinterest by adding a widget. The "pin it" button presents visitors with the opportunity to pin images directly from your site to their pin boards. Once you set it, just sit back and let your customers spread the word for you. The Pinterest business resources guide walks you through the step-by-step process to have your widget up in no time. You can also add a "pin it" button to your mobile app for added exposure.
Incorporate Your Social Life
Don't get sucked in to this black hole of productivity. Pinterest has a knack for getting people hooked, making it easy to forget other social media platforms. To gain full reach of the social spectrum, take the time to share your pins on Facebook, Instagram, Twitter and anywhere else your customer might find you. You can also create a link between your social media accounts by using an app like Woobox who allows you to post a Pinterest box on your company's Facebook page. Woobox also lets you see statics on how many views, visits and likes you received through the box. You can also use it for other social media accounts, just keep in mind that only the first box is for free.
Don't be afraid to experiment and find what your public searches online and likes most. You will also be able to find a lot of inspiration on Pinterest, which will help you if you haven't decided yet to outsource social media management to an internet advertising agency.
Tags: Pinterest, social marketing, social media, social media marketing

Posted in Social Marketing by Webs9 Inc.
Monday, July 29th, 2013
Even today we can still see businesses doing social marketing on Facebook with the help of a personal profile instead of a business page. We hope that this is mainly because they started promoting their products or services on Facebook before the concept of Business pages came along and as they already had "Friends", who were acquired with hard work, and they did not want to start over with a page. This is entirely understandable. But few people really know that now you have the option to turn your profile into a page. And that is what we are going to talk about today.
The decision…
The biggest advantage of transferring a Facebook profile into a Facebook page, compared to creating a new Facebook page, is that the friends the particular profile has, will be automatically transferred, becoming the page's fans. The profile picture set up on the profile will be transferred as well, but no other content will be transferred (posts, comments and so on). Thus, you might want to download the data associated to your profile before you start converting it into a page, as the process is irreversible.
You also have to note, that Facebook will not let you migrate from a profile to a page, if it does not recognize the browser that you are using to complete the process. So be sure to use a browser that you used in the past to interact on the profile you want to change.
How to turn a Facebook profile into a page
After you decided that this is actually what you want to do, you have to follow the steps in the following link to migrate your Facebook profile to a page: https://www.facebook.com/pages/create.php?migrate.
After accessing the above link, on the first page you will have to choose the category your Facebook page will refer to (you will be able to change this on a later time). You have 6 options in this case: Local Business or Place; Company, Organization or Institution; Brand or Product; Artist, Band or Public Figure; Entertainment; Cause and Community. After choosing the category, you might be prompt to choose a sub-category as well.
The name associated to you profile will be by default the name of the page and you have to keep it the same or similar to this in order to complete the migration. Note that the name of the page can be changed after the migration process is complete, but only if the page has less than 200 likes. If you have more than 200 friends on the profile you want to change and you want a page with a different name, then the only option is to create a new business page from scratch, in which case your friends won't turn into fans automatically.
After following the mentioned steps, you will be prompt to enter your password in order to confirm that you understand that this process is irreversible (in fact it can be reversed, but only after a lenghty process that involves sending a request to Facebook). Additionally, if you haven't done it by this point, you can download your profile data. Which you should do, just in case.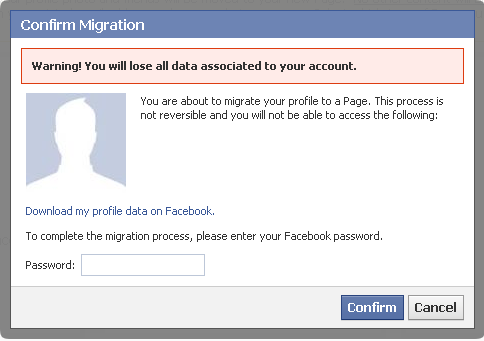 After finishing the migration process remember to add your personal profile as an administrator. To do this, while on the page, from the upper-right menu choose Edit Page -> Admin Roles and type in the email of the Facebook profile you want to give rights to. Remember that you have to first like your page with your personal profile, before you can add your particular email address as a Manager, Content Creator, Moderator, Advertiser ans so on. This is the rule for anyone else as well, who you want to give Administrator rights to on the page.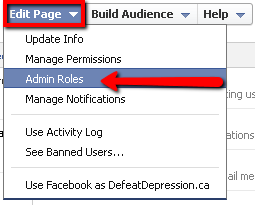 How to manage your business page
If you are given administrator rights on a Facebook page, you can post, comment and like on behalf of your page or on behalf of your personal profile. To switch between the two choose the wheel icon in the upper-right corner and click on the page or the profile on behalf of which you want to interact on Facebook. You know that you are acting as the page if in the upper right corner the profile photo and the name of your page appear.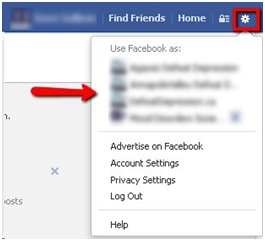 As a page you can like other pages as well, which means that a page will have its own News Feed as well (separate from the personal profile's which is administrating it). You can access it as you access your own News Feed: when acting as the page (see steps outlined above), you just click on the Facebook logo in the upper-left corner.
Do be careful and do not comment or post something personal on behalf of your page. So keep an eye for the message bar stating "You are posting, commenting, and liking as…" on which can be observed on top of the website (see below).

How to have a successful business page
Whether you created the business page from scratch or transformed a Facebook profile into a page, your page should have all the following elements in order for it to be successful:
1. Profile and Cover Photo. Your profile photo is transferred automatically within the migration process, but you should choose a Cover Photo as well. Please note that both should reflect your brand.
2. About section. It is highly important to fill out this section as completely as possible. The fields you should fill in are the following:
Address, including City/Town and Postal Code
Short Description
Company Overview
General Information
Mission
The year founded
Awards received
Products or services offered
Phone and Email where a representative of the organization can be contacted
Website
3. Fans
Growing your Fan base as a page can be a little more difficult in comparison to getting Friends as a profile, because as a page you don't have the possibility to send a "Fan Request", as you sent Friend Requests as a profile. But do not worry, we have 6 tips in how to tackle things from now on:
1. The first step is to invite your employees, volunteers, partners and customers to like your business page. To do this, follow the following quick steps:
A. While you're using Facebook as your profile (not your page) – see instructions in the How to manage your business page section- go on the page you want to invite your friends to. You can do this by selecting the page's name in the left side of your personal News Feed or searching for the name of the page in the Facebook search box.
B. Click Build Audience and select:
Invite Email Contacts, if you want to invite to like your page the email contacts you have in the address book of the email address you are signed in with
Invite Friends, to invite the friends you have on your personal profile you are signed up with (this will appear as a notification for your friends)
Share page, to share the page with your Friends (this will appear in your friends' News Feed)
2.  If you have other social accounts set up, you can even ask your fans/followers from those accounts to give you a Like
3. Another option to build a fan base would be to Like business pages connected to your industry and interact with those particular pages: comment, like, share their posts, share interesting content on their own Timeline and so on.
4. It could also help to place the Like button, or the link to your Facebook page strategically on your website, blog, guest blog articles and other content you can control.
5. It is also important for you to interact with the fans on your page, in order for them to not Unlike your page in the future. This tip is more in the line of not letting you Fan Base decrease, instead of literally increasing the number of Likes. So Reply or Like the comments they leave on your posts, Comment on the posts they share on your page and so on.
6. Finally, if you dispose of a budget you can even use Facebook's Advertising option to get people to like your page.
Are you currently managing a personal profile instead of a Facebook page in order to promote your business on the biggest social network available? After reading this post do you still see disadvantages to transforming the profile into a business page? Let us know your thoughts or questions in the comment section below.
Posted in Social Marketing by Csilla Incze
Monday, October 29th, 2012
Until recently return on investment for social marketing has been mostly a big question mark and, most probably, the lack of a tool to measure it prevented a lot of businesses to engage more heavily in social networks. I know we already wrote about this subject on our blog, but since Google Analytics introduced the Social Report, things have changed and became easier.
Of course, this might not meet all the needs and wants of some marketers or business owners, but I believe it is a huge step compared to the amount of data available on social marketing we had approximately a year ago.
You can find the following sections related to social stats under Traffic Sources -> Social.
Sources
The Sources report enables you to analyze which social network brings your website the most visits or pageviews, visitors from which channel stay longer (average visit duration) and which visit more pages during a session (pages/visit). As a side note I would mention that you should be careful when analyzing these metrics, because they can be deceptive, especially the Average Visit Duration and the Pages/Visit metrics. Why? Because they take into consideration extreme data. For example, if you have a non-ecommerce website, let's say a news site, and in a given period of time 100 of your visitors visit 20 of your pages, while 1,000 visit only 1 page. This would mean that the average is 2.7 pages/visit, which might be considered a good result, but in fact 90% of your visitors view only one page visitors, which in the case of a news site is relatively problematic. To get the bigger picture look at the distribution table, which you can find under the Audience -> Behavior-> Engagement section. But in order for you to see the data related only to the visitors who are coming from social media networks you will have to apply an Advanced Segment (in the picture below you can notice that I named my segment Social Networks). I will talk about how to create such an segment in the second part of the article).
By drilling down through each channel you can analyze through which landing pages visitors from each social networks came to your website, and in what timeframe. You could discover that a piece of content from your site, which was shared by you or one of your fans/followers a week ago is still bringing a considerable amount of traffic to you site.
In the Social Network and Action tab you can see through which action the content was distributed. For example in the case of Google+, you can see how many times it received +1s, or how many times it was posted and re-shared.
Additionally, in some cases you can read the conversations that took place regarding your content, in the Activity Stream tab. This feature is available only for social networks that are part of Google's Social Data Hub.
Pages
The metrics and features available are the same as in the Sources report, but from the point of view of your content. This gives you the opportunity to analyze which of your content was more "viral" and through which social channels each content was distributed.
Conversion
I consider this to be the most important section and you should too, because the value of the visits coming from social referrals and all the social interaction can be found in this report. An important aspect to remember is that this section would be empty if you do not enable ecommerce tracking (if you have an ecommerce website) or set up goals, including a Goal Value (if you have a non-ecommerce website you can use the method described by Google Analytics to calculate the Goal Value .
If one of the two or both ecommerce and goals are set up, the Conversion report will be populated with the social networks you receive traffic from, together with the number of conversions and the conversion value for each social network.
In the Assisted vs. Last interaction tab, for each social media network you can see the number of Assisted and Last Interaction and their value respectively, together with the Assisted / Last Interaction Conversions ratio. But what does this all mean you ask? Let's see below:
Assisted Conversions and Assisted Conversion Value shows the number and monetary value respectively, of sales and/or conversions that a particular social network assisted. An assist occurs when a visitor (coming through a social media network) leaves without converting to a goal or without buying something on your ecommerce site, but returns later to convert during an ulterior visit. The higher these numbers are the more visitors came through social media channels before converting on their last visit.
Last Interaction Conversions and Last Interaction Conversion Value show the number and monetary value respectively, of the last click sales and/or conversions. A Last click is considered that particular visit when a visitor converts. The higher these numbers are the more visitors converted when coming from a social media channel (in the case of that particular visit).
Note that if a visitor comes for the first time through a social network and converts in the same session, the Last Interaction Conversion is incremented, but the Assisted Interaction Conversion is not. The Assisted / Last Interaction Conversions ratio is interpreted in comparison to the value 1 (see chart below).
All the metrics available in this report can be viewed for all goals or just for one goal in particular (just select the goal for which you want to see the data from the drop-down list in the upper-left side).
If you are a marketer who's lobbying for social marketing within your company, these metrics might just have the power to convince your CEO regarding the (monetary) value of the social networks you are active on.
Social Plugins
If you have social plugins implemented on your home page and you inner pages, with the Social Plugins report you can see what content is liked, +1ed and tweeted directly from your website. This could be another metric which shows you which of your content and what kind of content is more appealing to your visitors to share and on which channels. If you have the plugin implemented only on your home page, then the report will show you data only for this page.
Take note that by default Google Analytics only includes in the Social Plugin reports from Google Plus. To include Facebook and Twitter, for example, changes to the tracking code have to be made.
Social Visitors Flow
This visually represents what pages did the visitors, coming from social networks, viewed during a session on your website, where they left your website and so on. Thus, you can observe which pages are considered important by visitors coming from social networks and which pages need improvement (looking at the number of visitors who left after viewing a particular page). If you want to see more levels just click the arrow in the right. If you want a more thorough analysis, for example for new visitors or visits with conversions, select an advanced segment from the drop-down list in the upper-left corner. You also have the option to see the flow for visitors coming from a particular social network, just left-click on the particular channel you would like to analyze and select "highlight traffic through here" or "view only this segment". You can do the same with a particular node (page) as well.
Advanced Segments
If you want additional data on your visitors than what Social Reports, the location they come from, the operating system/browser they use, how much of you social traffic are returning visitors and so on you could create an Advanced Segment that includes only social traffic. You can use this method to see the distribution table for social traffic, when it comes to average pages/visit and visit duration (in the Audience section under Behavior).
For example, we created our "Social Networks" advanced segment using the following Regular Expression:
facebook\.com|m\.facebook\.com|twitter\.com|digg\.com|stumbleupon\.com|linkedin\.com|technorati\.com|myspace\.com|bit\.ly|delicious\.com|reddit\.com|t\.co|goo\.gl
If you want to use the same specifications, save this advanced segment to the profile you desire.
After you save it, you can edit it to better fit your analysis needs, or you can add other social networks we did not include.
If you observe that you are using Advanced Segments quite often you might want to consider creating an additional profile, in which you include only social traffic (remember to always keep an "untouched" profile). 
If you add the data available from Google Analytics to the number of followers, likes or +1s, number of interactions, total reach, check-ins and so on, you are able to draw a comprehensive picture about the results your social media activity has and take informed decisions regarding steps to be taken.
How do you measure the results of your social marketing activities?
Posted in Social Marketing by Csilla Incze
Tuesday, May 8th, 2012
In Part 1 of How to…? Google Plus Business Pages the basics on how to create a Google+ Business Page were covered, and now follows the hard part: what to do with your new page? Well,  we are going to address issues like how to get more followers, how to organize hangouts and other Google+ features.
How to get more followers on Google Plus?
1. Ask your Employees, partners and customers to add your business page in their circles and share it with their circles, they can do this when they plus one the page (which is the equivalent of the Like button in Facebook), or they can latter on Share the Page (you guessed it, the equivalent of Share button in Facebook).
2. Managers should spread the word about the page to their own circles, which can be easily done with the Spread the word button. Of course, assuming they have a large number of followers, otherwise this tactic won't have significant results.
3. Invite your followers from other social accounts to follow you. The advantage of this tactic is that if they followed you on Twitter or Facebook for example, they will most probably follow you on Google+ as well. Additionally, it's not very time-consuming. The possible disadvantage would appear if you share the same content on several social media channels, as sooner or later people following you in several of these channels will get annoyed by your repetitiveness. An interesting option you might want to consider to make your Google Plus page more visible is to introduce on your Facebook page a Google+ tab.
4. Add Google Plus pages connected to your industry in your circles. If you are very confident, you could follow even competitors, but I personally wouldn't recommend it. It is important to mention that as a business page you can include pages in your circles, but you cannot add individual profiles to your circles, before they add you in their circles. So you cannot apply the Twitter strategy of Following many people and hope they follow you back.
5. After you added pages and people in your circles, be active. Comment, plus one posts and so on, even on your customers' profiles! This is one of the new brand-follower interaction methods Google Plus brings to the table, thus making it possible for you (as the brand) to comment on a post that one of your individual followers posted on their own stream, or even share that post with your community. I hope you are as excited about this as I am J
6. Place the +1 button, or the link to your Google+ profile strategically on your website, blog, guest blog articles and other content you can technically control.
7. And last but not least, as in Twitter, add everyone to your Google Plus page's circles, who has added your page in theirs.
What is the difference between plus ones and adding into circles?
Well, if you get a plus one, you can take it as a vote of confidence, but you have to remember that the person who pushed the +1 button will not get your stream updates, unless he/she adds you to their circles. So you can consider adding your page into a circle is a deeper commitment to your brand, than a +1. Keep in mind that people can take away their vote of confidence by pushing the +1 button a second time or by "kicking you out" of their circles.
Organizing Hangouts
Hangouts is the video chat and conferencing program, which can include up to 10 attendees. It's been rolled out not so long ago for business pages as well. After pushing the "Start a hangout" button from the right, you will have to install a plugin, after which you will have to invite other people to your hangout.
Additionally, you have a feature called "hangouts with extras", which besides the Screenshare option includes some Apps, from which in my opinion the most important at the moment are YouTube, Google Docs and SlideShare. So why not use Google Plus Hangout feature to provide customer service or to enhance the relationship with your clients?
How to manage my business page's circles?
You can add a person or business into any number of circles (just select the circles tab in the menu and drag people into your circles), which makes possible a complex enough segmentation of your connections (compared to other social media channels at least), which is extremely beneficial. Of course, I can see that organizing your circles can be a tiresome process, not only if the number of your connections increases daily, but depending on your segmentation, it could be hard to maintain. But, think of all the benefits if you organize your connections on geographical considerations or the position they hold within their company – you could share content which is more specific for their interest.
To create a circle just drag and drop a person or business page in the first "circle", after which you can edit, delete or share circles by clicking on the circle would like to make changes to.
How to do advertising on Google Plus?
At the moment you cannot advertise on Google+, like you can on Facebook, but with a little bit of imagination we could foresee a combination between Facebook ads and AdWords. Or maybe Google will take a different path, like no ads at all on its social platform. Why? Well, Josh Costine from Techcrunch has a pretty good point on how Google+ is made to better target ads on its other features and platforms.
Until then, you can use the +1 feature of G+ in your AdWord campaigns, if you link your business page to your AdWords campaign. This means that all your plus ones (gained by your page, website, ads and in the search results) will be summed up and the grand total will be shown, whether users are looking at your Google Plus page, you ad etc. The feature is called Social Extensions and its impact on CTR is still to be tested, but I guess it cannot hurt.
What other social marketing features would be nice?
Google Plus is a work in progress and hopefully Google will show the same openness for user demands as until now. I found the "user demands" in this Mashable post to be more or less pressing, although being written in November 2011 a few features like multiple managers and mobile have already been integrated into Google Plus.
I believe the most pressing is the analytics for Google Plus pages, which seemingly will be out in the next couple of weeks (but until then Google Analytics does a pretty good job in monitoring Google+ activity, without any additional code). Additionally, momentarily you do not have the option to set your own vanity URL, hopefully this feature will come out soon, although there is a less elegant option, about which you can read at this blog post about setting custom URLs for Google Plus Pages.
I already have a Facebook page, why should I take the time to create and manage a Google Plus page too?
You have to take into consideration the main difference between Facebook and Google+, which is that the latter, even though it has been around the web for less than one year, it is part of a conglomerate of other features and products, from which the most important is (obviously) Google Search. Mainly because it is not hard to foresee that Google will combine in one way or another its features and products, for an improved user experience. A first step in this direction was the launch of Search, Plus Your World, which personalizes your search results based on your Google Plus account. And many believe that it won't stop here. So considering that Google Search maintains its global search market share of above 80%, if Google says get onto the Google+ wagon, your business gets onto that wagon.
Additionally, Google+ has other features that can help you to interact with your potential and actual customers. On the other hand paid advertisement is not yet available, as Google Plus pages are still in their infancy, but when they will be I am sure that the analytics behind them will be according to our expectations. Customized tabs aren't yet available either, that I know of. And there are many features that we would be glad to see implemented on Google+, but I am sure that sooner or later Google will roll them out as well.
Now that you know the basics in Google+, go create your business page and start sharing content (and don't worry if you mistype something in your posts, because you can edit it even after you posted it, avoiding so many embarrassing moments – unlike in Facebooks posts).
Hoping that you found this Google+ introductory guide useful for your business, we are looking forward to answer any questions you might have or to chat more on the subject in the comment section below or on Facebook, Twitter or Google+

Posted in Social Marketing by Csilla Incze
Tuesday, April 24th, 2012
Before we start digging into Google Plus and the hows, the whys and the whos, I deem it important to note the differences between a profile and a page (as both will be often used in the following post). The majority of you might already know this, but unfortunately I still find businesses represented by profiles. Many social marketing professionals and even social media channels underline the importance to distinguish profiles from pages: profiles are for individuals, pages are for businesses. It's important to note this because pages have features that profile have not, from which the most important in my opinion is the insights.
At a first glimpse, Google Plus combines the advantages of Facebook pages with most of Twitter's functionality.
How to create a Google Plus business page?
Categories
Choose the appropriate category, because you cannot change this latter (not yet anyway). There are several categories you can choose from:
1. Local Business or Place is the special category, as these type of pages are designed to help people locate the business using its physical address. So choose this if your business is a restaurant, pub, shop etc. in one particular city. The first step in this case is entering your location and primary phone number, in order to identify the location of your business.
2. Product or Brand – use this category if you want to separate your brands and products from each other. For example if you have a brand of women's clothing and one for bowling equipment (being a little bit of absurd here, but you get the point) you might want separate pages.
3. Company, Institution, Organization – if the Google Plus page relates to a company or organization as a whole this would be the best choice.
4. Art, Entertainment, Sports – I would recommend this type of page for bands, artists, football clubs (obviously).
5. Other – If you feel that neither of the above is suitable for your page, you can choose this category, as it will not affect any feature regarding your page, every category having the same characteristics, except the local business one.
Big companies with multiple locations, or multiple brands or products, have the option of creating multiple pages for every location/ brand they own, apart from the company page for example.
After choosing your category you can enter you business page's information, together with the subcategory within the category (in the example above: Consulting and Business Services) and the age for which the content is appropriate (and your address if you choose Local Business or Place).
Tagline and page photo
The Tagline is like the elevator pitch on Google+. It will appear as the description when somebody shares your page. If you don't have inspiration right in the moment you're creating your page, do not worry, you can edit it later.
You might wonder, where and how will the tagline appear to your potential or actual followers when someone shares your page. Well, in this case even if it is longer than 10 words the whole text will be shown (and if it is very short it will look a little bit bare if you ask me).
Where the profile photo is concerned you can change it later as well, but do not forget to add one. It can be the logo of your company, your brand, or if you want something less mainstream put your creative hat on

How to edit your Google Plus page?
To edit the information of your business page just go to the Profile Tab and click Edit profile. You can change the name of your page, the tagline and the introductory information about your page, your contact info (email, phone and fax number, address, chat, pager). Additionally, you can change your profile photo and your cover photo. Make sure your profile photo has a high resolution and take into consideration that your cover photo has to be 940 x 180 pixels, but the last 1/3 of it is covered by your profile picture. Take advantage of the cover photo feature by illustrating your brand in an original way. If you already designed a cover photo for Facebook, you can try modifying that one and use it on Google+, as your brand is the same no matter what social channel you use.
To save the changes you have made press the "Done editing" button at the top.
I would like to mention a new little feature Google+ has, which enables you to see your page through the eyes of the "Public" or any other individual profile or business page. You can check it out by clicking on the "View as" button next to the "Edit profile" button.
How to manage your Google Plus page?
To act as your business page just select the page's name from the list of your pages from the Manage your pages section, which you can find under the "Pages" tab or find the name of you page in the profile drop-down menu, in the upper-right corner.
To edit settings, as the email address you want to receive notifications on, the managers of the business page and other aspects select Page settings or Managers from the drop-down menu from the upper right corner or in the "Home" tab find the Settings option under the wheel icon.
This is it for now. In Part 2 on how to actively manage your Google+ business pages we will talk about getting more followers on Google+, managing circles and hangouts and other features available on this relatively new social network. Until then post your questions or comments in the comment section below or let's chat on Facebook, Twitter and of course Google Plus

Tags: business page, Google Plus, social marketing, social network

Posted in Social Marketing by Csilla Incze
Friday, July 1st, 2011
Looks like Google+ is about to take things to a more personal level. Unlike Facebook, Google+ plans to differentiate contacts between: real friends, acquaintances, work people and few other categories. This division is based on the idea that sometimes people simply don't feel like sharing certain feelings with all their contacts, but maybe just with close friends or maybe to people from work.
Google+ wants to make you "feel like you're connected to a group of people, like you're part of something". That "something" wants to be much more narrow and personal than the "Friends" list from Facebook.
What's your opinion? Will Google+ be a threat to Facebook?
Tags: facebook marketing, google trends, social marketing, social media marketing, social networking

Posted in Social Marketing by Alexa Talpau
Tuesday, June 21st, 2011
Facebook matches advertisers to users based on users' interests, activities, favorites, their job titles, as well as the names of the groups they belong to and the pages they are fans of. That's a lot of information, and Facebook is still a place where more often than not people are willing to share an unbelievable wealth of personal stuff with their Friends and the Facebook Corporation. From a marketer's perspective, Facebook can offer profound insights into the personalities and circumstances of one's target audience. As a gathering place on the Internet, Facebook's communities and the community demographics developed therein can give marketers surgical precision as they find an arena for their ads.

To begin his talk at SES Toronto, Marty Weintraub identified three classes of Facebook targeting tactics that every Facebook marketer ought to have at their disposal. Literal, competitive and inferred targeting should all inform a Facebook ad strategy. Let's take a look at these three and summarize Weintraub's discussion of them in more detail:

Literal Targeting:

These are the most obvious connections a marketer can make. Selling lacrosse sticks to people who like "playing lacrosse" on Facebook would be an obvious starting point. Literal targeting aims to match ads that are semantically related to the interests of users on Facebook. Often a keyword appears both in the interests listed by users and in the ad itself. Literal targeting allows marketers a way into Facebook that is parallel to SEM efforts on search engines. The downside is that these clear relationships sometimes don't exist and that they unlock only a fraction of community demographics' potential. As a marketer, Facebook allows you to go deeper into the lives your audience than ever before. The question according to Mr. Weintraub is "how deep are you willing to go?"

Competitive Targeting:

Competitive targeting focuses on both the positive and negative Facebook presence of a brand's competitors on Facebook. A competing brand's fans on Facebook might be an effective place to market your superior goods. Explain the added value of your product in your ad, offer a deal, try to win people over to your side. Fans of brands that are vulnerable, either because of an inferior product, negative press coverage, a recall of some sort, whatever the vulnerability may be, present fertile ground for converts. Essentially, marketers should try to find ways to leverage competitor investments in organizing their followers on Facebook both for their own Facebook presence and against the competitors themselves.
Tags: facebook marketing, internet marketing, seo, social marketing, social media, social media marketing

Posted in Social Marketing by Webs9 Inc.
Friday, June 17th, 2011
Strong creative can be a huge competitive advantage in the world of paid search. When you can pay less to get more, you're doing something right.

The compounding factors of improved CTR, increased quality score, and reduced CPC can make a tremendous impact on performance. Ad copy testing lies at the heart of seizing this competitive advantage.

With an endless number of attributes to test, it can be a little daunting to pick a starting point. Looking for a positive impact? Here are five ad copy attributes you can test.

1. Price Points & Percentage Off

If you're a retailer, this is must. You're missing out big if you aren't testing into specific price points and percent off offers.

Important: don't make assumptions here. Test out multiple price points and percentages off to find out what will resonate with consumers. Here's one of my favorite illustrations of why not to assume anything when it comes to price points:

PPC Price Points

A 76.5 percent CTR lift on the higher price point. We can make assumptions as to why the higher of the two price points experienced the higher CTR. Maybe the "or Less" factored in, or maybe "$39" just sounded too good to be true. Hard to say. This is precisely why we test.

2. Google Sitelinks

By now you have hopefully enjoyed the benefits of running Google Sitelinks in your ads. The presence of ad sitelinks can lift CTR by more than 30 percent.

Surprisingly, many advertisers still haven't added these to their campaigns. Maybe they've tested it and found that their ads perform better without sitelinks, but this is doubtful. I haven't seen an instance where an ad's CTR decreased as a result of having sitelinks present.

Don't let your sitelinks get stale. Remember to rotate in new pages to test, and test variations of the ad copy. Keep refining.
Posted in PPC, sem, seo, Social Marketing by Webs9 Inc.
Thursday, June 9th, 2011
Last week, Google bought PostRank, a social analytics service that tracks and measures social posts. With this acquisition, Google has gained a resource to better understand the social web, and that resource can be applied to great impact in several of Google's key social arenas.

What Is (or Was) PostRank?

PostRank, in their own words, "is the largest aggregator of social engagement data in the industry." The service allowed users to get real-time data on trending topics, high-volume conversations around the web, and their own posts. The company was established in 2007 under the name "AideRSS." They re-branded as PostRank in October of 2008 in preparation for more socially oriented features. In July of 2009, the company released a service to track social trends (i.e. for datamining). Over the next year they expanded into brand management, blogging services, trend analysis, and consulting services.

The company was acquired by Google earlier this month, but beyond that no details have been released regarding the transaction. A Google representative gave a fairly typical statement to TechCrunch about the company's excitement to be working with the PostRank team, stating that PostRank has "developed an innovative approach to measuring web engagement, and we think they can help us improve our products for our users and advertisers." Which is almost exactly the same as what they said about buying Slide.

While we don't know exactly what the PostRank team will be doing, it is known that they're moving from their Waterloo, Ontario home to Mountain View, California, and statements from both Google and PostRank indicate that the team's focus will continue to be on social tracking and analytics. As was the case with Slide, SayNow and Fflick acquisitions Google is most likely buying the talent of the development team, rather than the product.

What Google's Acquisition Means

It's fairly common knowledge that Google is going more social. Since Google's first foray into the social scene (aka, the disaster that was Buzz), the company has been attempting, with mixed success, to implement social features. However, if one thing is certain, it's that Google is committed to changing its poor position when it comes to the social web. They even went so far as tying the bonuses of all Googlers to the company's success in social.
Tags: google trends, seo, social marketing, social media, social media marketing

Posted in seo, Social Marketing by Webs9 Inc.
Wednesday, June 8th, 2011
Search marketers are lucky. Really, we are. We get to work in a medium where we have access to real-time data and can adjust our strategies and execution nearly as quickly.

No matter how much we may gripe about the engines' "black box" algorithms, we can't argue with performance and a lot of deep data that we can get our hands on.

For some, that might be a curse. Like a paella-laden Estelle Costanza might say, "what are we supposed to do with all this data?"

Use it. And keep using it. Then find more data, and use that too.

Test, implement, analyze.

Lather. Rinse. Repeat.

1. Expand Your Keyword Lists

Building out and refining your keyword lists is a good example. Everyone knows the value of the long tail in helping lower CPCs.  And yet we all know the tendency to throw everything in there and come up with a list that's unwieldy and impossible to manage.

When it comes to finding the right keywords for your account, there are lots of tools available, whether free options from Google, a third-party system, or an agency's own proprietary tool. But there's a lot of value in pouring through search query reports to find long tail and negative recommendations.

By matching the query to the credited keyword and then analyzing the return on that query, you can identify where to find lower CPCs or reduce waste by adding negatives for non-converters.

A more refined approach is to leverage the conversion rate, cost and revenue to come up with a projected contribution margin for typed keywords.  Then match those with what's currently in your account. Missing keywords with high CMs go into your long tail; negative CMs go into your negatives.

For example, if you have a keyword "Acme brown widgets" and find that Google is matching up the query "extra large Acme brown widgets" to it, look at the performance of that keyword for each time it's matched to that query.  Subtract cost from revenue to find the contribution margin (or divide if you prefer to organize by ROAS) telling you how profitable that query is.

If it's high, add the longer tail "extra large Acme brown widgets" to your keyword lists and the ensuing lower CPCs will bring even greater margin. If it's lower, "extra large" may be a good negative keyword for this campaign.

Just be sure to run a similar report after these new keywords have garnered traffic and refine as necessary.
Click HERE for more!
Posted in sem, seo, Social Marketing, web-design by Webs9 Inc.